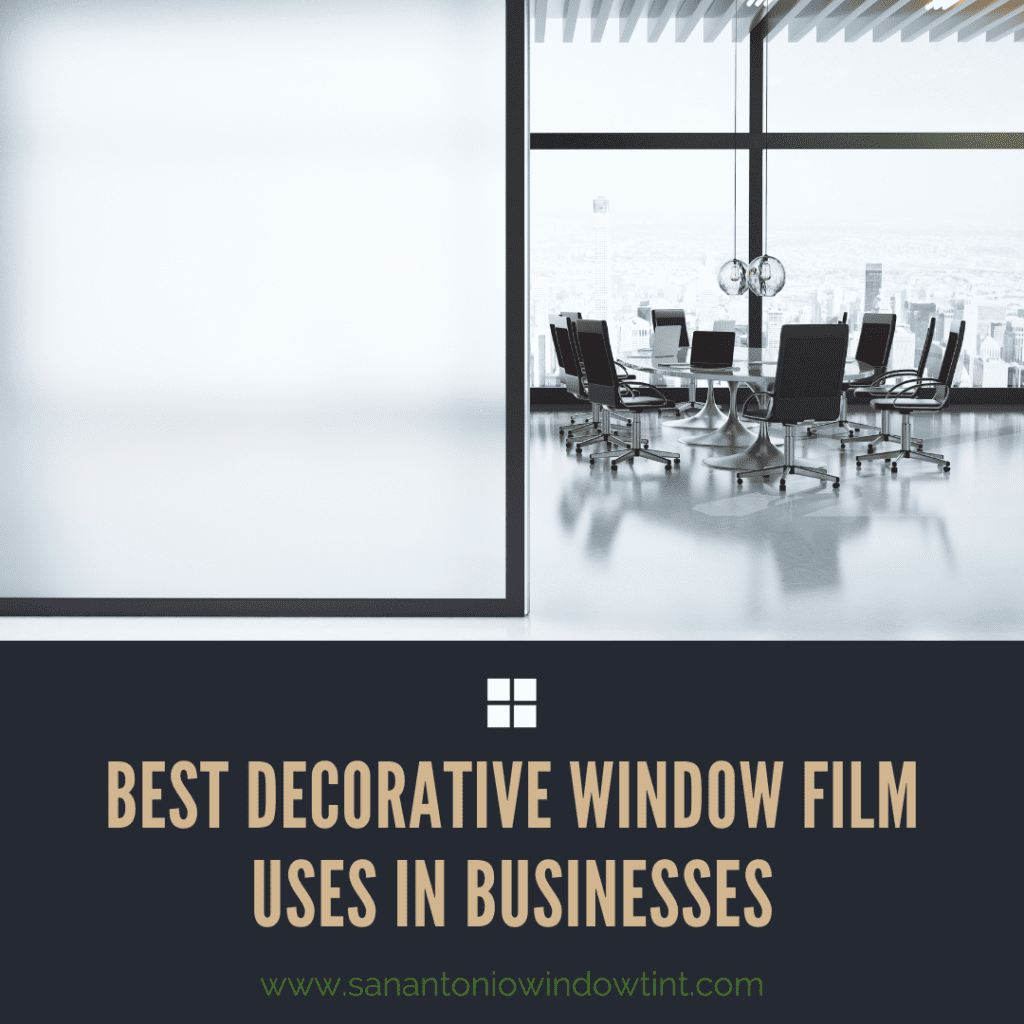 As a business owner, you want to make an incredible first impression on potential customers and clients. Utilizing decorative window film is one way to do just that! It's affordable, yet still provides numerous advantages such as privacy protection, branding opportunities, decoration enhancement – the list goes on! In this blog post we will investigate all of your options when it comes to different varieties of window film and some excellent ways in which they can be used for businesses.
Decorative Window Film to Create Privacy in Office Conference Rooms
If you are looking for a way to maintain confidential presentations in conference rooms, window films can be the perfect solution. Not only will they make it difficult for onlookers from outside of your room to peep inside, but certain types of decorative window films like frosted or patterned ones provide added privacy. Even some window film options are designed specifically around TV screens so that no one can see through them! Decorative window film offers not only a heightened level of privacy, but the chance to customize and make an enduring impression. By customizing this decorative film with your branding details, businesses can create a secure space where sensitive information stays confidential, visitors are undistracted by outside distractions, and office aesthetics remain on point. Overall decorative window films offer endless advantages for any business endeavors!
Decorative Window Film For Branded Displays on Store Front Windows
Make the most of your storefront windows by transforming them into eye-catching, branded displays using decorative window film in San Antonio! Customize this cost-effective solution to showcase logos, store hours and any other message that you would like potential customers to see. Create designs that stand out from the crowd and generate more brand awareness with minimum fuss. These films also provide retail locations with as much or as little privacy as desired – making them a win for shop owners everywhere!
Decorative Window Film in Hotel Room Showers for Privacy
Window films are an attractive, economical solution for providing privacy in hotel showers in San Antonio. There is a plethora of designs to meet any aesthetic goal and add decorative flair to the room. Yet that's not all – window film also ensures guests are safe from slip-and-falls while showering, creating an inviting experience free from injury risks. Not only does this provide visual appeal but it also gives peace of mind knowing those staying at your establishment have greater security when showering.
Decorative Window Film for Seasonal Displays on Commercial Windows
Decorative window film is the ideal solution for commercial businesses seeking to add life and vibrancy to their seasonal displays in San Antonio. Easily applied, this affordable product will instantly turn any glass surface into a magnificent decorative masterpiece! From Easter bunnies and snowmen, creating stunning visuals that fit each season couldn't be easier. And when you're done with one decoration – don't worry; the beauty of this film lies in its quick installation and easy removal, making it an economical choice for those looking to keep customers amazed all year round.
Decorative Window Film to Advertise Events at Sports Stadiums or Music Venues
Decorative window film has become an increasingly popular way to advertise events that are being held at sports stadiums or music venues in San Antonio. It is an eye-catching form of advertising because it comes in window film sheets of solid color vinyl and can be customized with graphics, including text. This type of advertising yields great results as it creates a vibrant and visually striking display that lasts for weeks – even months at times. Advertising with decorative window film or building wraps is a powerful type of advertising and its potential for drawing an audience is tremendous.
Decorative Film is Functional and Beautiful
Decorative film has recently emerged as a favored option for window coverings in business settings in San Antonio. Not only does it lend an artistic flair to any area, but also provides several other advantages. The filter blocks out much of the UV radiation that can shine through glass while reinforcing security and insulation features at once. With these numerous benefits combined, decorative film offers a unique solution to multiple issues while adding beauty and charm to your space!
Contact Us For a Free Decorative Window Film Consultation for Businesses
Give your business a fresh start without the long, costly process of renovating – decorative window film is here to help in San Antonio! This cost-effective and impactful solution adds personality to your space while giving you functional benefits. Contact us now for a free design consultation to decide what beautiful display would best suit your commercial location! Whether you want to create a private conference room or add some branding to your storefront, decorative window film can help you achieve your goals. Don't hesitate to get in touch with us and see how we can transform your business today!