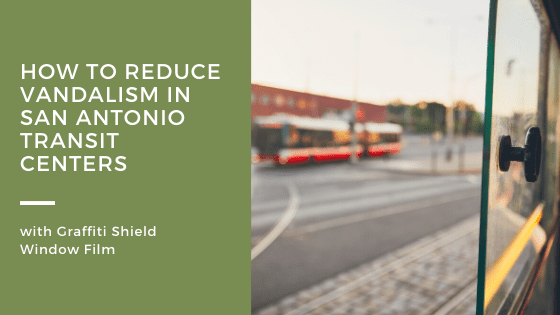 Vandalism is an issue that's not to be taken lightly. Though little thought at all goes into committing the act, the damage it creates is massive. Business owners are left emptying their pockets to pay for the repairs. Crime increases in the surrounding neighborhood, creating problems for residents and local businesses. The list goes on and on.
Many types of buildings are targeted by vandals. But transit centers sit at the top of the list of those among the highest rate of frequent graffiti occurrences. Bus stops, benches, metal partitions, windows, and train cars are just some of the many areas that get destroyed.
That's why transit centers are starting to fight back. How are they doing it, you may ask? Passively and proactively. And they're using Graffiti Shield Window Films for their San Antonio property as their primary defense.
How Graffiti Shield Window Films Protect Public Transportation Systems
Public transportation systems play a crucial role in major cities. Yet they're often treated badly, and receive the brunt of property crimes committed in the community. Repairing vandalized surfaces is expensive, time-consuming, and frustrating. That's why public transportation systems of all types are investing in Graffiti Shield Window Films. This includes San Antonio airports, bus lines, taxi companies, and trains.
When it comes to vandalism defense, Graffiti Shield Window Films offer top of the line protection. Unlike security cameras and alarms, they do more than just scare vandals away. They actually stop the damage from happening. The thick, impenetrable film makes it impossible to deface vulnerable surfaces like metal, mirror, and glass. This save transit centers tons of money on repairs.
A More Affordable Alternative to Removal & Resurfacing
In addition to preventing vandalism, Graffiti Shield Window Films can help San Antonio businesses with damage that's already taken place. Instead of having to remove the damage by paying a graffiti removal company or having the item resurfaced, businesses can cover it up using the film. Once it's installed, you can't even tell that the damage took place.
Learn More
Learn more about how your San Antonio transit center can benefit from Graffiti Shield Window Film by calling our office today!