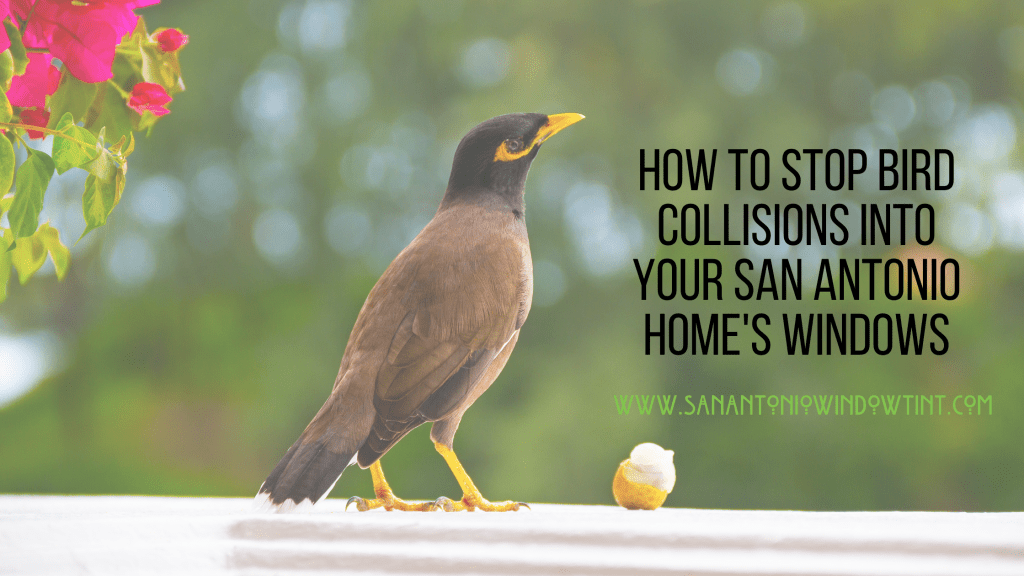 Bird collisions most frequently occur on high rise buildings but also happen to homes here in the San Antonio area. While less common, if you have experienced bird strikes on the window of your San Antonio home–you likely know how gruesome it is and want to do something about it. It is deadly to the bird and hurts home windows too–the clean up is not pleasant either. The good news is– there are ways to avoid these fatal run-ins all together–by far the most effective of which– is bird deterrent window film.
Ways to Make Windows Visible to Birds
The key to keeping birds from flying into your windows is making home them visible to birds. It really is that simple. Since birds cannot tell the reflection of the sky from the sky itself–they try to fly through the glass. Below are a few ways to make your windows apparent to keep avians safe.
Use Paint or Soap: By painting the outside of your San Antonio window with soap or "tempera" paint they become visible to birds. Be sure to make the pattern a tight one– 4 inches by 2 inches. This method is one to have some fun with so–be creative and paint a cool, bright pattern.  
Use Decals: Stickers, sun catchers, masking tape, and, yes, even sticky notes adhered to the surface of glass will help the windows become apparent to birds. They need to be spaced close together–so be sure the spaces in between the decals are too narrow for birds to try to fly through.
Put up "Zen" Curtains:  Also called, Acopian Bird Savers, these are basically tightly spaced ropes that hang down over windows. They work the same as decals by making the window visible but are more attractive and easier to install. 
Install Screens:  Mosquito screens that go over your windows are very effective when placed on the outside of windows and less intrusive than decals.
Install Netting:  By positioning netting over your San Antonio home's glass (hung about 3 inches from the glass, you set up the crash net for birds to bounce off of. This is an approach that takes a fair amount of time and effort to get correct.
So which one of these methods is the best?
Actually, none are!  The issue with the aforementioned DIY solutions to home bird strike prevention is–they all have issues. For one, they are very time consuming and likely expensive. Plus, they drastically affect the look of your window. For the very best bird strike prevention for your San Antonio home's windows bird deterrent window film is the only answer.  
Bird Deterrent Window Film is:
Nearly invisible to the human eye

The most effective at stopping bird/window collisions

Cost-effective and installed in one day
If keeping birds from flying into your San Antonio home's windows and not altering the appearance of your windows is your goal–bird deterrent window film is the solution you are looking for. 
Contact us at San Antonio Window Tint for more information on bird deterrent film options.