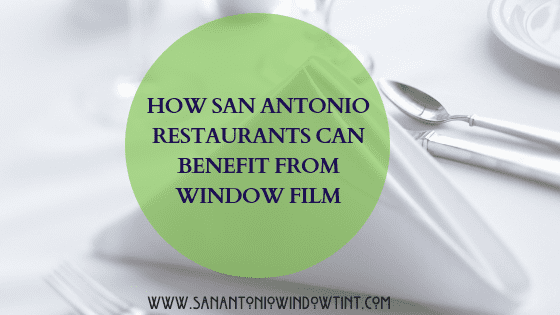 Window Film For A More Profitable San Antonio Restaurants
The restaurant industry is a tough one and sometimes the smallest edge will mean the difference between success and failure–keeping the doors of your eatery open or closing them for good.   One innovation that will put Salt Lake City restaurants on better financial footing and effectively lending them the competitive edge is window film. Window film has many benefits but it is it's money saving properties that really mean success to San Antonio restaurant owners.


The Money Making Benefits Of Window Film For San Antonio Restaurants


Branding:  Decorative Window Film is the perfect way for restaurants to boldly display their brand, logo, specials and even eye-catching modern displays.  This adds up to top-of-the-mind awareness from those passing by. In a sea of amazing San Antonio eateries, this extra attention is exactly what a restaurant needs to draw in new and/or repeat diners.

Energy-Efficiency:  Restaurants spend a disproportionately high amount of their money on utilities since keeping customers promptly fed and in a comfortable environment is critical to success. Window film on restaurants allows them to give their clients perfect temperatures in a glare-free dining room for significantly less than they are spending now.  On average businesses of the hospitality, nature see about a 20% reduction in heating and cooling costs–which really adds up.

Graffiti Protection: Graffiti is all too common in bathrooms everywhere and in any type of restaurant–from 5-star establishments to burger joints.  Nothing is worse for the perception of cleanliness at a restaurant than scratches or markings in bathroom mirrors. With anti-graffiti films, this type of destruction is easily and cost-effectively removed before it damages a restaurant's image.

If you own or manage a restaurant in the San Antonio area and would like more information on any of these types of money making/saving window films, contact us at San Antonio Window Tint for a free analysis on how window film will work to earn your restaurant more money for years to come.