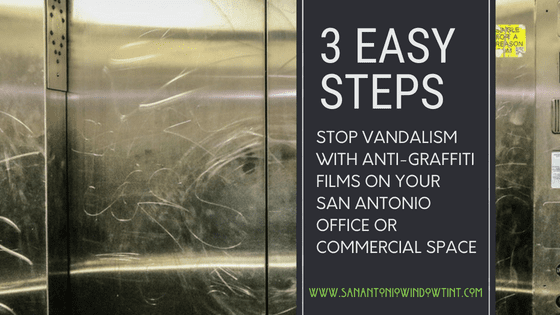 How Anti-Graffiti Film Works To Stop Vandalism In San Antonio
Vandalism is very damaging to your company's image and destroys your business message to boot. So, doing everything you can to stop graffiti is a step towards your business's success. Sadly, no building is immune from it, but there are steps you can take to reduce your risk of attack and/or mitigate current damages. Anti-graffiti films and graffiti prevention measures dovetail wonderfully with each other, so below we have listed some steps to prevent vandalism on your San Antonio property in coordination with protective films.
3 Steps To Stop Vandalism On Your San Antonio Building
1) IDENTIFY WEAK SECURITY AREAS
Vandals are always on the lookout for areas that are not monitored: perimeter points, unlit areas and architectural features like elevators and bathrooms are what they seek. Doing a quick survey of your property to identify these places and making a list of the most vulnerable areas is the best way to start avoiding graffiti-attacks. At San Antonio Window Tint we have a number of anti-graffiti films for the different surfaces that you will find: mirrors, glass, and metal.
2) TAKE STEPS TO DETER CRIME AND VANDALISM
Once you have identified vulnerabilities it is time to start taking steps to protect your commercial property or office space. Increasing lighting in some areas, installing security cameras in others and having anti-graffiti film applied to the most exposed areas are great ways to protect yourself. Graffiti film works as a sacrificial layer that is applied over a surface. It can be installed before or after graffiti. This amazing film reduces the cost of repair on mirrored, metal or glass surface and is a shrewd business move. Films like Metal Guard, Mirror-Guard and Glass Guard films, can be removed and replaced at a fraction of the cost of replacing the full architectural element. Plus we have custom films to protect nearly any flat surface.
3) RESPOND TO GRAFFITI IMMEDIATELY
It is critical not to let graffiti sit on your property for any length of time. There are two main reasons for this.
Leaving it on will encourage vandals since their main goal is to have their damage on display. Removing the graffiti in as little as one day by replacing the Guard film stopes this satisfaction for vandals.
Even one instance of vandalism is likely to have a drastic ripple effect. The longer you leave it on, the more powerful the overall impact will be. Vandalism is more than just ugly it is a threat to your company's image, the value of your building, the tenancy length of your renters and brings neighborhood values down.
Watch the video below for more information on Graffiti Shield
The anti-graffiti film allows you to immediately and cost-effectively remove graffiti and keep your business running in the process as these films have no downtime. It also saves you money, retains clients and tenants and keeps you in good standing with your neighbors.
Contact us San Antonio Window Tint today for more information on your amazing anti-graffiti films for your San Antonio commercial space today!