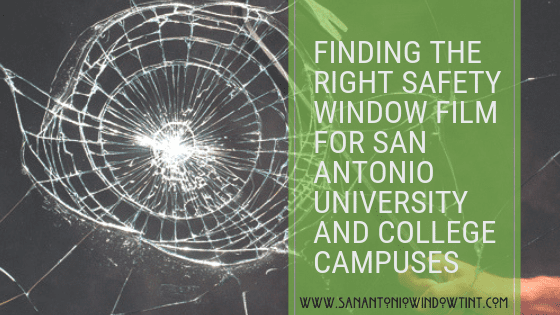 Window Tinting For Schools In San Antonio
As esteemed places of higher learning, we are lucky enough to have schools like Earl Warren High School and San Antonio College here in San Antonio and any number of strong institutions to choose from. However, as good as a lot of our schools are here–they are only as functional for learning as they are safe. This is why safety and security window film should be a consideration for any school that wishes to give their students a truly stellar experience. As it were, there are different films for different applications and depending on the unique needs of your school and even schools in the same neighborhood may make different safety and security window film choices based on their situation. Continue reading to understand a little bit more about security window film options and applications and how it may work for your San Antonio area educational environment.
Safety and Security Window Films For Schools In San Antonio
These nearly invisible protective window films are strong enough to keep intruders out of campus buildings where a common occurrence is smash and grab theft. Areas like school stores, school cafeterias or dorms are all typical targets. However, since these films are barely noticeable but incredibly strong, they will give you the protection you need with unobstructed views that "advertise" potential security threats. Additionally, they are a cost-effective choice as a tempered glass alternative–protecting from natural disasters and everyday accidents too!
Anti-Graffiti Film For Keeping San Antonio School's Lovely
Graffiti on school campuses is par for the course here all over the US and San Antonio is no exception. Graffiti protection films are a convenient and cost-effective answer to campus graffiti as they are applied right on top of the existing metal, glass or mirrored surfaces–in as little as one day. If/when defaced they are easily removed and replaced–taking the unwanted graffiti away with them!
Bomb and Bullet Resistant Films For The Ultimate In Protection
The sad fact of the matter is, an unlikely, but devastating, event of a bomb or bullet attack is something your school board needs to address. Applying high-end bullet or bomb-resistant window film today could save lives tomorrow and these types of systems are more common than you may think in education institutions countrywide. Impact resistant films have differing levels of protection but they are all strong and tear resistant and will hold broken glass together so windows won't shatter. Used with a specialty attachment systems and Cbond adhesive, the treated windows on your school fortify your school against an attacker and, at the very least, protect students and staff from flying glass and buy them precious seconds to escape.
For more information on any of these safety and security films or any of the countless other options we carry here at San Antonio Window Tint, contact us today for a free consultation.