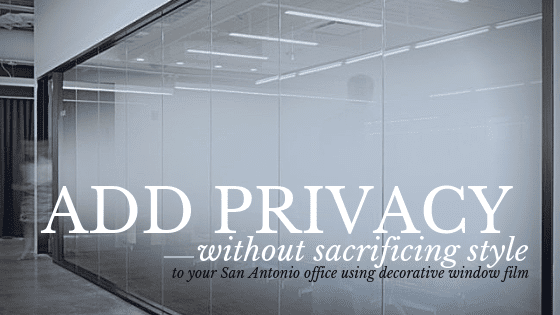 Are you tired of having to open and close the blinds to create privacy for your office or conference room? Decorative window film could be the solution your San Antonio office needs!
As the manager of an owner of business, your days are stacked with meetings upon meetings. Not only do you have to attend to clients' needs, but you also have to take care of your employees too.
And while no one wants to sit in their office all day with the blinds closed, you need privacy. Yet, at the same time, getting up every 30 minutes to close the blinds or window shades isn't exactly ideal.
Instead of dealing with irritating blinds or sunscreens, you could try installing decorative window film. Decorative window film is excellent for creating privacy for glass walls and it looks stunning. Plus, the benefits are amazing. You'll be wondering by you didn't do it sooner.
How Decorative Window Film is Installed
One of the great things about installing decorative window film for your San Antonio office is that it's so easy. If you work with a local window film company, they'll basically do everything for you. Simply schedule a consultation, pick out a film you like, and set an installation date. Then, your window tinting company will come out to your business, clean and prime the glass, and install the film.
Ways to Add Privacy to Your Office with Window Film
Privacy is necessary for meetings and trainings. It gets rid of distraction and helps everyone feel more comfortable. And window film is a great way to create privacy. Here are a few different ways you can use decorative window film in your San Antonio office.
1. Add branded window film to your conference room. Branded films are stylish, professional, and a great way to create subtle privacy.
2. Add frosted window film to restrooms, locker rooms, fitness or yoga rooms, or lobbies.
3. Use exterior window film to protect data. A reflective or tinted film is perfect for creating privacy and security at the same time.
Get a Quote
Installing decorative window film for your San Antonio office is easy and affordable. Call our team today to get a quote!