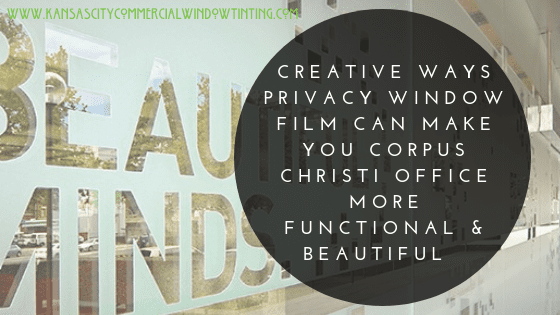 Privacy Window Film For Offices In Corpus Christi
Window films are a 360-degree solution for privacy applications in offices and not only is a functional idea but makes for an incredibly beautiful workspace as well.  Window film, in general, is very versatile but privacy films, in particular, are able to fill almost privacy issue that you may have in your Corpus Christi office building. Furthermore, since window film easily removable and comes in many finishes (clear, textured, tinted or dyed) it proves to be invaluable for offices spaces that demand both form and function.  Whether you want to add a bit more privacy to an open office set up or looking for a new fresh style for your glass windows and doors, privacy window film is a decor element for the job. Read below for creative ideas on how to use privacy window film that may work for you.
Creative Ideas For Privacy Window Film In Corpus Christi Offices
Turn Glass Surfaces Into One-Way Mirrors
Modern office settings have a lot of glass and as a result are very open.  These layouts are proven to help with teamwork and creativity but really don't allow for covered areas, which are essential for departments like HR or Accounting.   Another issue is conference rooms surrounded by glass. This type of arrangement can feel like fishbowl to those inside and out. Privacy window film is a way to create a one-way mirror effect, with as little or as much tinting as you need.  You can also opt for non-reflective partial design for a bit more transparency. Overall, privacy window film is the perfect solution for any office in Corpus Christi looking to get more privacy but keep an open community feel.
Cover Kitchen Cabinet Clutter In Your Corpus Christi Office
An office kitchen is one of our most popular places to add privacy window film.  The film is great for glass cabinet doors in order hide the workplace clutter of mismatched glasses and flatware or back stock of kitchen essentials.  The best part is privacy films for those who are leasing office space in Corpus Christi is– they are easily removed by our trained professionals. Since you often times cannot make permanent changes to your space, privacy window film anywhere in your office is renter friendly. When you move, or if you want to change up the design, the film is quickly taken off, with no residue of any kind left behind.
Cover All Or Part Of Glass Cubicles
Glass cubicles are a place where privacy window film really shines.  For companies that want to add a little or a lot of privacy to their employee's workspaces, it is a cost-effective and lovely addition.  You can choose your design and level of coverage too. This means you can find just the right design to both allow your workers to easily engage with one another but still get the privacy they need to get the job done.   Best of all, the fun and modern designs are customizable to give your Corpus Christi office a unique look for everyone to enjoy!
San Antonio Window Tint For Privacy Window Film In Corpus Christi, Texas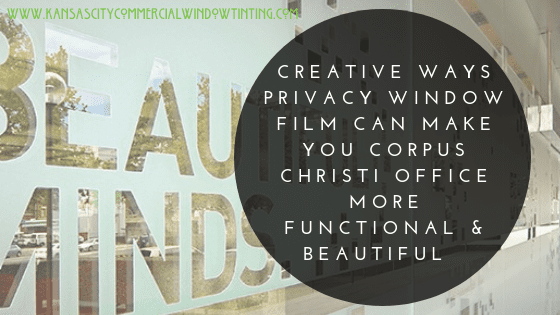 Here at San Antonio Window Tint, we specialize in customized privacy window film for homes or offices all over San Antonio area, including Corpus Christi.  We carry the films you will need to make your office more beautiful and functional too. Contact us today for more information about privacy window film for your Corpus Christi office!