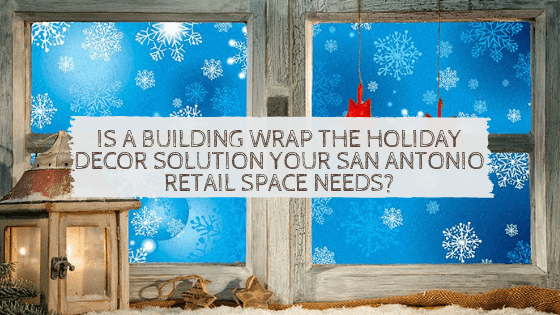 The holiday season offers retail owners an incredible opportunity to increase sales. But it's also one of the most competitive times of the year. Shoppers have their attention pulled in about a hundred directions when they cruise through a mall or shopping center during the holidays. In order to steal customers' attention, retail owners have to be creative about their advertising. Offering special discounts and sales will only go so far. You have to bring attention to your store and products and give shoppers a reason to walk into your store and not the competing store across the street. By installing 3M Building Wrap on the exterior of your San Antonio location, you can grab the attention of people passing by and advertise your sales to shoppers located miles away.
Boost Your Sales this Holiday Season with 3M Building Wrap
In the digital age, retail owners are focusing more and more of their advertising efforts towards social media and email marketing. While there are considerable benefits of digital advertising, it's important not to neglect other touch points and areas of contact you have with your customers. Your brick and mortar location deserves some attention too.
Shoppers in this day and age are highly desensitized to traditional advertising methods like billboards, cardboard cut outs, and window displays. This means that retail owners have to be creative about their physical advertisements. And that's what makes 3M Building Wrap the perfect solution. 3M Building Wraps are an exciting new form of advertisement that allows retail owners to add stunning graphics and messaging to the exterior of their store. Walls and windows come to life with decorative patterns, graphics, and messages that can be seen from miles around. This allows retail businesses to cast a wider net and reach a larger number of shoppers during the holidays.
Design Options for Building Wraps
3M Building Wrap is great for San Antonio retail locations because they can be customized in hundreds of different ways. Retail owners can choose to have their film printed with their brand colors, logo, or even images of their products. Here are some different design possibilities that you can use for your building wrap this holiday season:
-Holiday themed patterns and prints
-Patterned and textured films
-Custom graphics and messaging
-Dichroic color changing films and more
Install 3M Building Wrap for your San Antonio Retail Store
Increase traffic to your store and boost your sales this holiday season. Call today to schedule an appointment to have 3M Building Wrap installed for your San Antonio retail store.