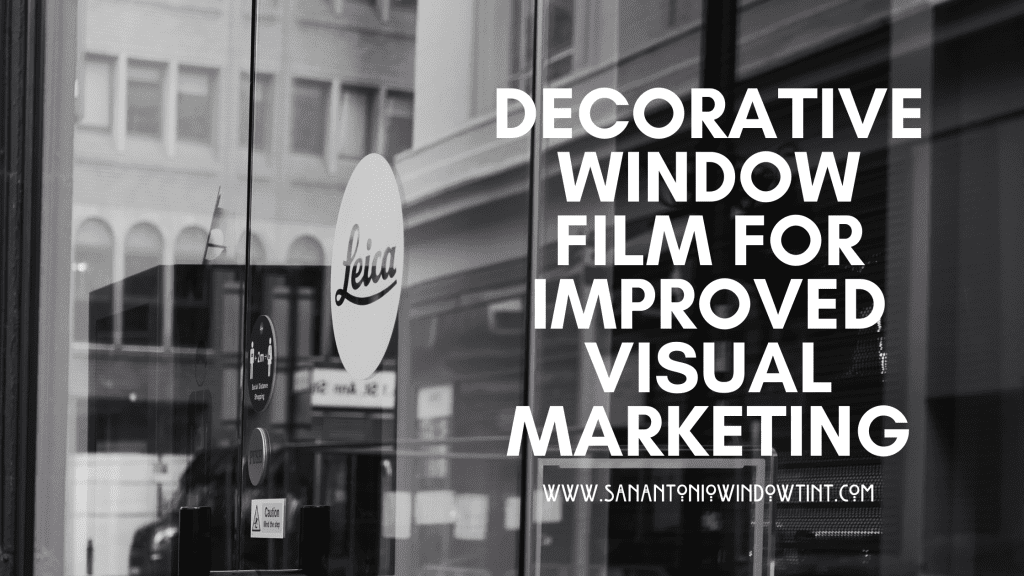 When you own a business in a large city like San Antonio, being on top of your game is essential. Both in the online and in the real world you need to set yourself apart. A fantastic way to do this is by updating your retail, hotel, gallery, salons, or co-working space's visual marketing and keeping it relevant True, online advertising is wonderful–but another powerful way to Market your San Antonio business is by utilizing the front of your location. Decorative window film is easily the best way to do this
Decorative Window Film for Top of the Mind Awareness
When branding a business, one of the most important pieces is putting your establishment at the top of people's minds. This Packers when you repeatedly relay your message and/or brand aesthetic. Decorative window film is perfect for this. It prominently conveys your branding message or logo right on the front of your business windows and/or doors. This means every time someone passes by they are gradually enticed inside.
Decorative Window Film for Increasing Walk In Traffic
When someone passes a business front, they are not able to take in a lot of information as to what is inside. With decorative window film applied you can use words, pictures, and artwork to relay your unique business model. This means people have time to make a quick judgment about your brand increasing the likelihood that they will come through into your location.
Decorative Window Film to Convey Critical Business Information 
Decorative window film adds a fantastic visual element to your businesses' location. But, It is also a powerful communication tool. Info like your website, your phone number, your brand's unique tagline, and hours of operation are just some of the business details decorative window film relays. Studies show, the more information people have about your business, the more likely they are to walk inside or come back in the future
Here at San Antonio Window Tint, we are fantastic at designing custom storefront window decals. From modern to seasonal, and more, we have a decorative film for every need. Contact us today for a free design consultation and pricing for a masterpiece of your own!