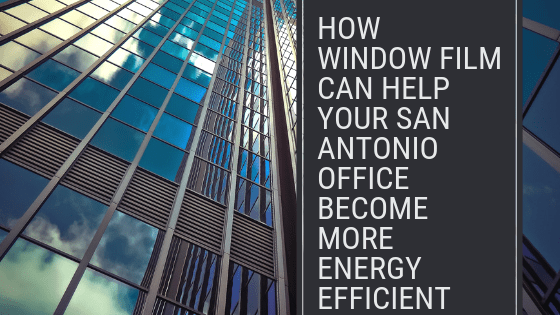 Energy is one of the largest expenses for any office. For small businesses just getting started, energy costs can be a burdensome expense. Even larger companies today are turning to energy efficient methods of operating as natural resources decline and the cost for energy increases.
Investing in energy efficient technology can be very beneficial for your office. Not only could it help you save money in the short term, but you may also see savings even after you receive a full return on your investment. In this article, we'll discuss some methods office managers like yourself can use to make your space more energy efficient, including installing window film for your San Antonio property.
Ways to Make Your Office More Energy Efficient
No matter where your office is located in San Antonio, whether it's downtown, Alamo Heights, or Southtown, chances are your property probably receives a fair amount of sunlight year round which results in solar heat gain and high energy costs. Installing energy efficient technology and using the following methods can help you keep your office at a comfortable temperature and save money:
1. Use a programmable thermostat to limit hvac use after hours
2. Use lap tops instead of traditional computers that consume large amounts of energy
3. Install timers for small appliances so they shut off at the end of the day automatically
4. Use energy efficient light bulbs
5. Install energy saving window film
How Much Money Does Window Film Save?
While all of the methods above are great for limiting your energy use, the best way to improve the energy efficiency of your property is by going straight to the source of the problem. 30% of energy loss occurs due to lack of energy efficient windows. Installing window film can help you save up to 30% on your office energy bill. Window film has a very quick ROI of only three years and the upfront costs to install it are relatively low, so it's an easy investment to make.
Install Window Film for your San Antonio Office
Invest in window film for your San Antonio office and start saving today. Call San Antonio Window Tinting to schedule your free consultation.