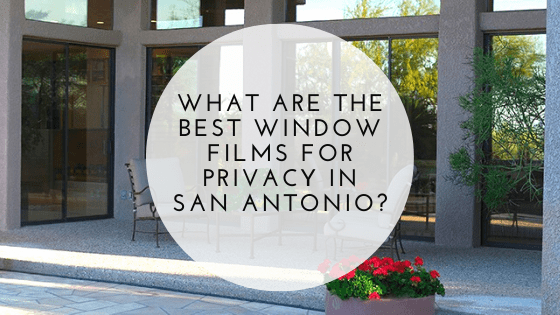 Are you still using blinds or curtains to create privacy in your home? Time to modernize! Drapes and hanging window treatments are no longer the only option. Today, there's a huge array of different styles of privacy window films in San Antonio that homeowners like yourself can utilize to create privacy without blocking light.
As experts with over 10 years of industry experience, we've worked with many different brands and types of privacy window films. Based on what we've seen, we've put together this list of what are, in our opinion, the top 3 options for privacy window films today.
Top Three Window Films for Creating Privacy in Your Home
Not all window films are designed to provide privacy. When choosing a privacy window film for your San Antonio home, it's important to select a film that's specifically designed for the purpose of creating privacy. Here are, in our opinion, some of the best options on the market.
1. LLumar Dual Reflective Window Film
LLumar Dual Reflective Window Film is definitely one of the most elegant privacy window tints. Its glossy appearance provides a high level of privacy, but isn't over the top or distracting. It's basically the same kind of window tint that upscale hotels, offices, and businesses use.
2. Solyx Decorative Films
Another great option for creating privacy is to install a patterned or frosted window film. Solyx Window Films are a budget-friendly option and are available in tons of different looks, from subtle frosted films to flashy stained glass, striped, and patterned styles.
3. Vista Window Film
We love using Vista Privacy Window Films in San Antonio homes. They have an attractive neutral color, and are also excellent for softening the harsh Texas sunlight.
Start Browsing Options
Don't sacrifice the sunlight you love for the privacy you need! Start browsing privacy window film options by calling our office today.