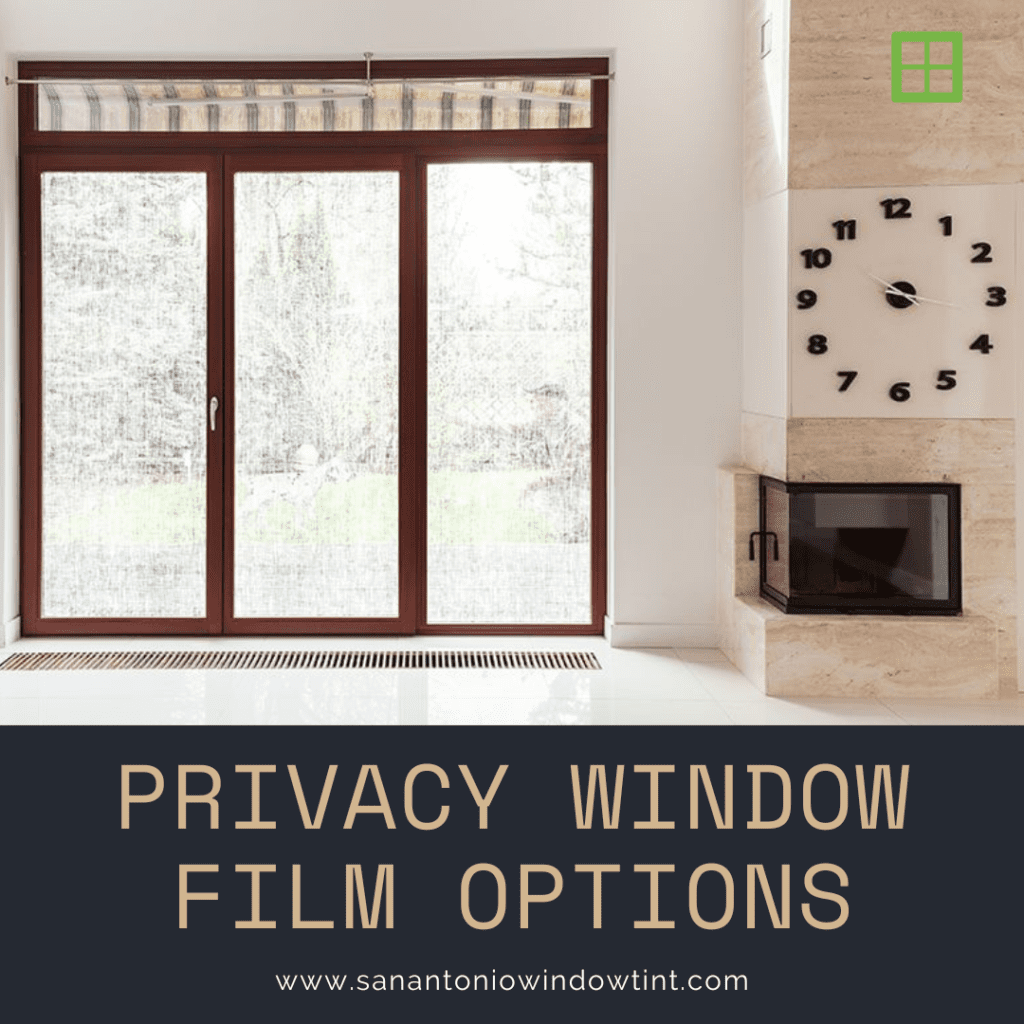 As San Antonio continues to flourish and expand, businesses and homeowners alike look for ways to ensure their privacy. That's why we offer several varieties of privacy window film that fit different needs – whether it be budget, location or added benefits. No matter the requirement, you can find a solution from us!
Solar or Sun Control Window Tints for Privacy 
Window tints are not only a great way to reduce the amount of solar radiation entering your home or business, but they can also be used as an effective tool for improving privacy. With wide windows and glass walls common in apartments and businesses alike, it is often difficult to keep private spaces secure. For commercial buildings like government offices, secure facilities, and doctor's offices where discretion is paramount – window tinting offers a discreet yet highly effective measure of protection. Similarly for high-end residences with precious items visible through windows – installing solar control tints grants you peace of mind knowing that prying eyes will remain out.
Added Benefits of Solar Tints for Privacy
Solar tints provide a host of advantages that easily make them worth the cost. Not only do they protect furniture, floorings and artwork from UV rays' damage while safeguarding human health, but they also reduce heat transfer through glass surfaces. Moreover, solar tints can lead to substantial reductions in heating and cooling costs for both businesses and homes – making them an economic choice!
Decorative Window Films for Privacy
Decorative window film is an ideal way to elegantly add privacy within your home or business. The films are both stylish and practical, offering a range of advantages for those seeking out increased safety and beauty. It's important to note that the specific benefits you'll enjoy will differ based on whether it's used in residential or commercial properties.
Decorative Privacy Films for Homes in San Antonio
Homeowners can use window films to block out unwanted views or filter light and glare, especially if their homes are on crowded streets or windows face south or west. The best part is that these protective films come in a broad selection of designs as well as being completely customizable – making them the ideal cost-effective way to add some personal touches to your San Antonio home windows without breaking the bank!
Decorative Privacy Films for Commercial Buildings in San Antonio
Decorative window films for privacy are not only visually appealing but also incredibly beneficial – especially in commercial buildings. For locations like offices, which may deal with sensitive information such as accounting or medical records, and conference rooms that regularly host meetings, these specialty decorative films come in handy and offer an extra layer of security.
Cloaking Films for Office Privacy
Cloaking films are especially beneficial for office areas that house sensitive data on LCD screens, making them appear as black boxes from the outside. Similarly, frosted and textured decorative films can add privacy to cubicles or offices while still allowing natural light in and preserving an open look. Businesses of all sizes have embraced technology as a way to customize their level of coverage without sacrificing aesthetics.
If you would like to find out more about window films for your San Antonio location, get in touch with us now and book a complimentary privacy audit!