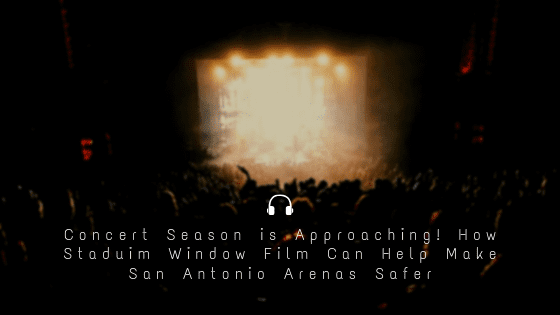 Summer is one of the most beautiful times of the year in San Antonio. Sure, the days can get warm, but there's so many beautiful outdoor destinations and activities that make for a fun summer. One of the best things to do in San Antonio during the summer is go to an outdoor concert. With venues like the Aztec Theater and the Whitewater Amphitheater, locals always have options available for catching some great brands and enjoying beautiful outdoor scenery.
As summer approaches, managers of concert venues and stadiums are getting ready for the busiest time of the year. While there are many preparations to be made, one of the most important is attending to security matters. Keeping patrons safe is at the top of every venue manager's list of priorities, and for good reason. We only have to take a quick look at recent events to remember that it's easy for things to get out of hand during a busy event like a concert.
By installing stadium window film, San Antonio concert venues can become safer than ever before and protect employees, artists, and patrons from potential dangers.
Stadium Window Film: A Must-Have for San Antonio's Summer Concert Season
Outdoor concert season is approaching fast! Get your San Antonio venue ready with stadium window film. Here are a few reasons why you should make the investment in security window tinting this year:
Accident Mitigation
Accidents happen, especially in chaotic environments, and concerts are no exception, of course. It's easy for someone to slip on a spilled beer or get knocked down by a rowdy crowd. And if they do, one of their limbs can go through a window or glass partition, which will likely result in injury. Make your San Antonio stadium safer with window film for accident mitigation. Pro tip: Install the film near potential slip and fall areas, like bars, water fountains, and restrooms for maximum effectiveness.
Safety
Sometimes things get out of hand at concerts. People get excited, they have too much to drink, and before you know it, the wrong guy is upset and ready to make a scene. Keep staff and patrons safe by installing safety window film. With safety window film, you can protect concert-goers from gun shots, explosions, and other dangers.
Upgrade Your Security with Stadium Window Film
Get your San Antonio concert venue ready with the best security technology on the market. Call our office today to schedule installation services for stadium window film in San Antonio.