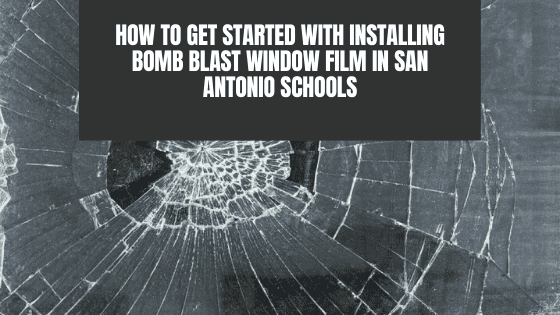 School security is always a top priority when it comes to protecting the students and teachers in San Antonio schools. Unfortunately, schools have limitations with their budgets which can make finding security measures even tougher. While active security systems are great for prevention and everyday threats, there are some circumstances where these measures can fall short. Passive systems are often overlooked, but one of the best options is security film. Bomb blast window film is a specialty security film option that provides the protection you need for your campus.
The Steps to Take for Installing Bomb Blast Window Film for Your San Antonio School
Find a security film expert. The first step is finding the right security window film team for your project. You'll want to work an industry expert to ensure your security feature offers the maximum protection possible. Make sure to ask for references on past security jobs similar to your project size.
Complete a security assessment. Once you find some potential contractors, the next step is having a security assessment completed. Security assessments determine property vulnerabilities, tactical installations, product recommendations, and project estimates.
Choosing the right bomb blast window film. When you've completed the assessment and have chosen the right contractor for your project, the next step is choosing the right bomb blast window film for your campus. You should have a cost-benefit analysis provided by your security assessment.
Work with San Antonio's Preferred Bomb Blast Window Film Experts
San Antonio Window Tinting is honored to be the preferred bomb blast window film experts serving the Texas area. We've helped numerous schools throughout the nation with their security film needs. With the most expansive selection of bomb blast protection film in the nation, we guarantee we'll have the right option for you.
For more information regarding bomb blast window film, please contact us!