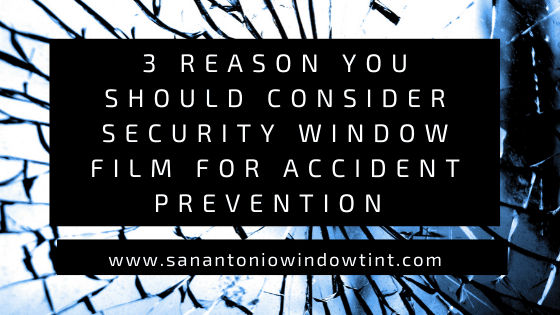 Crime is fairly low here in San Antonio but break-ins happen all the time. This is why smart commercial investors use security window film on their windows. These films are fantastic for stopping crimes of convenience like "smash and grabs" but have additional benefits too. Read below to find out other ways safety and security film can protect your San Antonio business.
The Additional Benefits of Safety and Security Film
Since the benefits of safety and security window film are more than meets the eye–it is an incredible value to San Antonio businesses of all types.
Protection From Natural Disasters: When a natural disaster strikes, safety and security film is important to keep people in San Antonio buildings safer. It keeps glass in place even after being struck by debris so glass does not become dangerous shrapnel that kills or injures people.
Protection From Accidents: Slip and falls into glass are a common occurrence in commercial spaces. One way to limit bodily harm in the event of a slip and fall into glass is by fortifying your San Antonio business glass windows and doors with safety and security film. It keeps your employees and customers safer and could shield you from potential litigation. It is also a workaround for tempered glass to bring your location up to code.
Protection from UV rays: The sun here in San Antonio can be intense. More to the point the unchecked rays from the sun are not good for humans. They cause premature aging and some types of skin and eye cancer. Although the first job of security film is preventing break-ins, it also blocks 99.9% of harmful UV rays coming through your windows.
As you can see, safety and security window film is good for much more than just foiling break-in attempts. To learn more about these films and to schedule a free consultation, contact us here at San Antonio Window Tint today!