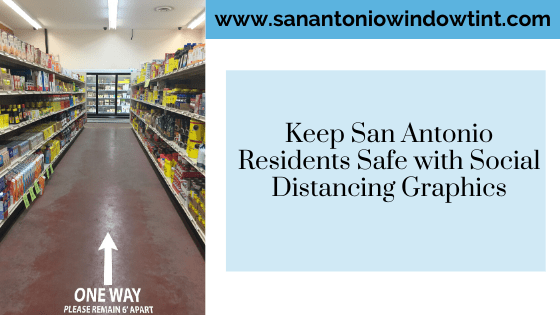 With "stay at home" orders soon coming to an end, San Antonio businesses are excited to open their doors once again. Although many business want to open their doors, they may not be aware of what steps they need to take for a safe operation. Our Federal and local government will be issuing updated, mandatory safety procedures for all organizations to follow during COVID-19 operations. It will be up to local organizations to effectively implement these procedures. Without the proper tools, it can be difficult to properly enforce regulations, possibly resulting in safety hazards, improper compliance, and render your organization susceptible to law suits. We are here to tell San Antonio businesses that a safe and compliant operation can be easily achieved. Our new Safety evaluations and social distancing graphics can provide any organization with the proper tools for protecting customers, protecting employees, complying with mandated safety procedures, and mitigate liability.
Give Your San Antonio Organization the Edge
Our Safety solution are tailored to your specific needs. Starting with an evaluation, we will target high risk areas, and designate the appropriate precautions that should be taken in your business. Custom graphics will then be applied to all necessary locations to enforce safety procedures, social distancing, and reminders. All our graphics are complete customizable, extremely durable, and can be installed on surfaces such as wood, concrete, plastic, metal, glass, and much more. Our professional team can execute the entire process, from evaluation to installation, quickly, allowing your business to focus on getting back on its feet. Our safety evaluations and social distancing graphics may be the best solution to protect your business and San Antonio community.
Bathroom, Hand Washing Reminders:

Directional Graphics For Aisles and Walkways:
Comply with safety regulations by clearly directing foot traffic throughout your facility.
Check-Out Line Graphics:
Enforce appropriate social distancing in check-out lines.
Door Graphics:
Install caution/ warning signs for mandatory mask areas, and other reminders.
Have San Antonio's Surface Graphic Experts Help Your Business Today.
Due to the current state of emergency we are facing, San Antonio Window Tint has dedicated our efforts to the safety of our Texas communities. For this reason, we are excited to offer free virtual consultations to our local businesses and maintain normal hours of operation. Take the stress out of safety compliance and allow your business to be protected today.
For more information on social distancing surface graphics and safety evaluations, please contact us!