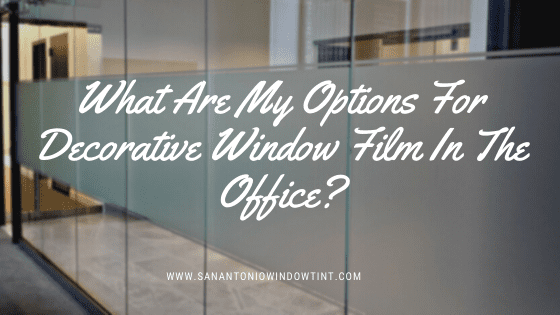 When most people think of decorative window film, they immediately picture frosted glass, but did you know the amount of choices are unlimited; that's right, unlimited. Although there are hundreds of preset patterns to choose from, you also have the ability to create your own patters and even create larger than life HD images. Standard frost can work great in many situations, but other patterns may do a better job achieving what you truly desire.
How To Make Decorative Window Film Work For You
Before Making a decision on any decorative window film, take a moment to stop and think about these three questions:
How Much Privacy Do I Want v.s. How Much Privacy Do I Need? A popular trend in the work space is having large open work spaces; open work spaces lead to better solidarity among peers and increased productivity. Before boxing yourself, or others, in a wall of impenetrable frost, consider other options that can provide targeted privacy. For example, gradient films are an excellent option for providing privacy on computer screens and important documents lying on your desk, yet they will still enable you to wave and say hi to your co-worker passing by.
Could Me or My Employees Use More Personalization in The Workplace? Instead of keeping everyone in impersonal offices or work-spaces, consider having names and titles printed on their work space. Photos can also be enlarged and created into a custom graphic. Instead of putting up a standard wall of frost, consider installing a large perforated graphic of the entire team. Office graphics and decorative films can be used to liven up a work space and add a personal touch/ sense of belonging.
Could Other People See My Windows? If you are considering privacy for your office because people look into your store front as they walk by, you have a great opportunity to make film work for you. If your office or store front faces the street, you should consider printing a graphic that has your company name, logo, and contact information on it. Do not miss out on the opportunity for free advertising. Decorative films can give you privacy, attract attention to your business, make you look professional, and provide information to every one walking by. Your privacy film could pay for itself.
If you think decorative window film could benefit your work space, contact the San Antonio Decorative Window Film Experts today!