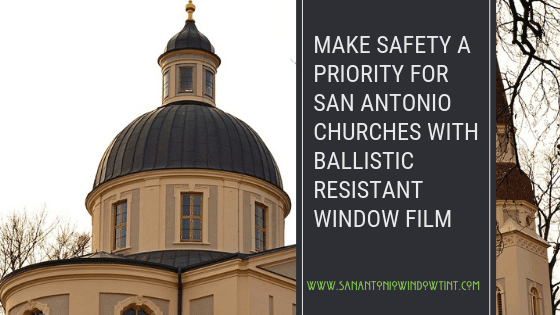 Why Churches Need Ballistics Protection
Anyone who lives here in San Antonio City knows that this place is pretty safe. However, the tide of the times these days points to more and more seemingly random attacks being carried out across the country and churches are quite frequently a target of such ire. Sadly this means that many congregations are doing things like hiring security guards, putting up cameras and securing their windows and doors with security window film. In regards to the latter, we at San Antonio Window Tint, service the San Antonio area and are able to provide window tinting solutions to help secure the weakest part of your churches exterior, the windows, and doors, against what would be a worst-case scenario–a gun attack on your congregation. Read on to find out just how window film can help protect your San Antonio church.
Powerful Ballistics Resistant Window Film To Protect Your San Antonio Church
Ballistics resistant window film is something we specialize in here at San Antonio Window Tint. While window film may not seem like enough to stop bullets, these high tech films will greatly hinder an attacker from gaining entry through the window or door. Even if an attacker shoots the glass, it will not immediately cave, giving your congregation precious extra minutes to escape and/or hide. This also buys time for first responders get there and neutralize the threat. While there is no such thing as "bulletproof" glass, safety and security films, treated with C-Bond and housed in a specialty frame system are about as close as you can come.
What is C-Bond Adhesive?
As mentioned above, C-Bond is a powerful adhesive that is fortified on a molecular level to offer the best level of safety available with window film. C-bond has been nano-engineered to make glass more flexible and keep it in its place after an explosion or high-velocity strike. This makes it very difficult to penetrate even with multiple gunshots.
For more information on high-level protection against gun attacks on your San Antonio church, temple or synagogue–contact us today.