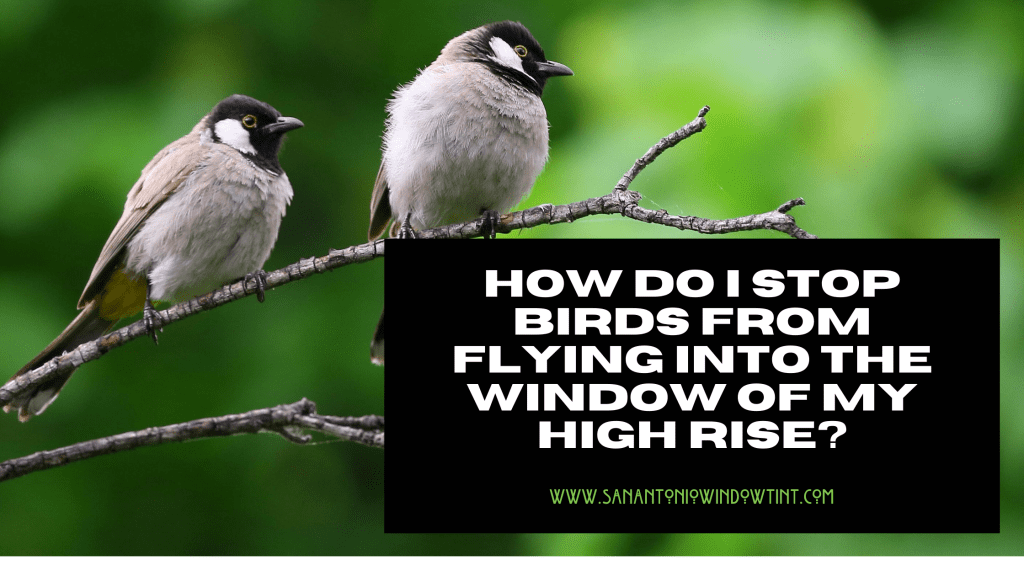 Bird strikes on windows are a very common occurrence worldwide. They are also highly problematic to bird populations since over a billion birds are killed each year by these tragic accidents.   In the commercial sector, they are especially common because of the size of the windows on these structures.  But, what most people don't know is that birds run into windows on residential structures too.  This is horrible since here in San Antonio we have many beautiful birds to watch.  In fact,  many of us even set up feeders and baths so we can enjoy them in our yard.  While watching birds in your backyard is wonderful– it actually brings birds closer to our home windows and therefore closer to danger.  But there is a way to keep the birds safe and enjoy them in your backyard and this is making your windows visible to our feathered friends. 
Making Windows Visible to Birds
The reason birds run into the windows of homes is because they can't see them. Here in San Antonio, where the sun is bright and reflects on windows, it is especially hard for birds.  This is because to a bird, the reflection of the sky in windows can be parsed from the actual sky.  Therefore, they accidentally fly into windows believing it is open air.  Therefore, the key to keeping birds from flying into home windows is by putting something on them that the bird can see–bird safety decals. 
What Are Bird Safety Decals?
Sometimes called fretted films or birdstrike films these amazing "decals" keep birds from colliding into windows.  Basically they are pretty simple.  Bird Strike window decals are clear films that cover your entire window.  Embedded in these films are tiny dots visible to birds.  The tiny dots are virtually invisible to humans but the birds perceive them as objects similar to a fence or netting.   What makes these dots so effective is the pattern in which they are placed. They are close enough together that birds big and small won't try to fly through them.  This means our wonderful feathered friends avoid the windows of your San Antonio home and they are safe to enjoy the birdfeed and baths you put out for them.  Best of all, you get to enjoy the birds and a handful of the benefits of window film for your home like UV protection.
For more information on these bird safety films contact us at San Antonio Window Tint today!