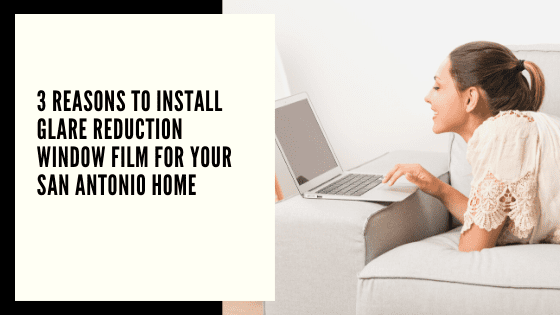 Now that many of us are spending more time in our homes, it can be a lot easier to spot some property concerns that you hadn't noticed in the past. Especially with more employees working from home and more screen-viewing activities in play during quarantine, you may be noticing the excessive glare issue on your San Antonio property. With sunshine almost year-round, these properties can experience serious glare during certain times of the day especially if you don't have the right foliage surrounding your home. Glare reduction window film offers a great way to reduce glare for promoting better comfort and productivity.
The Benefits of Glare Reduction Window Film for San Antonio Homes
Improves screen-viewing comfort: Glare reduction window film reduces serious glare, preventing headaches, squinting, and eye fatigue. This promotes better comfort for all screen-viewing activities from working on your computer to watching TV with your family.
Maintains natural sunlight: Window treatments can block glare but also block your home's natural sunlight. This can create a dark, unwelcoming space for your home. Natural sunlight can help lower stress, making it essential during these times.
Enhance productivity: There are so many things that can get in the way of your productivity when working from home. Make sure glare isn't one of them. Glare reduction window film can help improve productivity.
Work with San Antonio's Leading Glare Reduction Window Film Contractors
San Antonio Window Tint is honored to be the leading glare reduction window film contractors serving the Texas area. We're available during our normal business hours and are providing free virtual consultations. We have the largest selection of glare reduction window film and can help you find the perfect solution for improving your home's functionality.
For more information regarding glare reduction window film for your San Antonio home, please contact us!