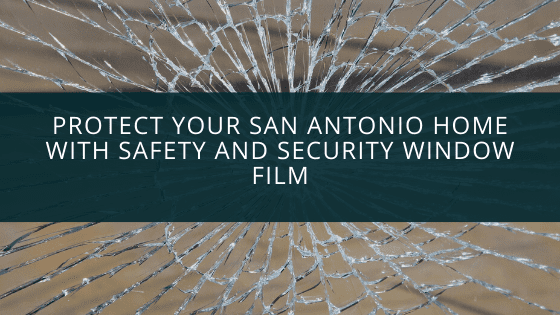 While many of us are staying home a lot more, homeowners are always looking for better ways to improve the safety and comfort of their residences. During these stressful times, finding ways to alleviate stress and gain some peace of mind can be extremely helpful. When it comes to the glass windows and doors of your home, these are often overlooked and have limited security options. Safety and security window film offers a cost-effective way to maximize your San Antonio home's security efforts.
The Benefits of Safety and Security Window Film for Your San Antonio Home
Safety and security window film offers residential properties extensive protection against burglaries, home invasions, freak accidents, severe weather, natural disasters, and much more. By keeping all your broken glass fragments together after an impact occurs, this prevents glass breakage from impacting your home. Broken glass hazards are actually the number one cause of considerable injury and blast-related death. This innovative film provides strength and flexibility to your glass, giving it the ability to absorb shockwaves. It also provides precious time during the event of a home invasion for you and your family to better hide or escape until the first responders are able to arrive. Homeowners can also take advantage of safety and security film with the added benefits of energy efficiency, privacy, UV protection, and more.
Work with San Antonio's Top Safety and Security Window Film Contractors
San Antonio Window Tinting is honored to be the top safety and security window film contractor serving the Texas region. We are providing free virtual consultations and would love to help you with all your security project needs from the safety of your own home. We've partnered with leading manufacturers so that we'll have the perfect option for you.
For more information regarding safety and security window film, please contact us!