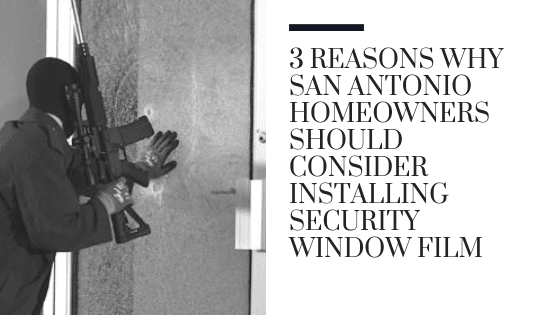 San Antonio homes can be targeted for property crime, theft, vandalism, and home invasions. These crimes can happen at any given time, making it pertinent for homeowners to prioritize security. Security systems can definitely provide the right type of preventative measures you're looking for but in some cases can't prevent the occurrence. Safety and security window film provides the right solution at an attractive price point for San Antonio homeowners.
Benefits of Safety and Security Window Film for Your San Antonio Home
Safety and security window film provides the ultimate home protection. This unique, durable film offers extensive coverage for natural disasters, home invasions, burglaries, freak accidents, and more. By adding strength and flexibility to your existing glass, the most vulnerable areas of your home will be defended. Safety and security film mitigates broken glass hazards which can save potential lives and reduce the risk of significant injury for you and your loved ones during any event. Broken glass and flying debris hazards are actually the leading causes of death and injury, making it pertinent to pacify these hazards. Security film offers invisible protection and acts as a passive security system that remains "on" 24/7. Homeowners can rest assured knowing their property is safe even when they're not there.
Installation Process for Safety and Security Window Film in San Antonio Homes
San Antonio Window Tinting has the largest selection of residential security window films in the San Antonio area. We're proud of our advanced team of security experts that can help you and your family find the right security film investment for you. Our installation processes are always timely, stress-free, and discreet. With energy saving and UV protection benefits also available, we guarantee you'll find a great ROI.
For more information regarding safety and security window film for your San Antonio home, please contact us!