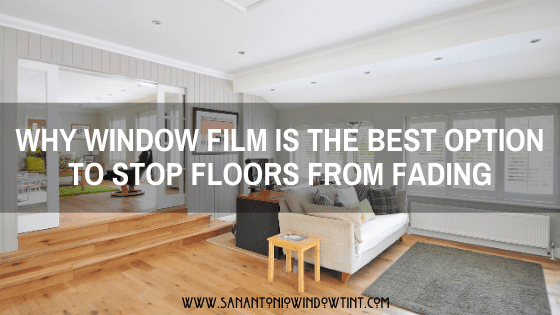 When you own a home with hardwood floors, you become very aware of how to keep them looking good. You clean them with the proper solutions, you have people remove their shoes and, hopefully, you attempt to keep them from fading.  People often turn to curtains and blinds for protection from fading. But is this the best option or could window film be a better option?
How Window Film is a Better Option Than Curtains or Blinds to Stop Hardwood Floor Fading
Curtains and blinds are traditional ways of keeping hardwood floors from getting sun-bleached but UV blocking window film is a better solution.  Here is why.
Window Film is More Effective Than Blinds or Curtains:

While curtains and blinds block some of the UV rays that cause the floors in your San Antonio home to fade–they certainly do not stop them all.  Window film blocks a whopping 99.9% of UV rays. This slows fading of floors over time–much more than curtains or blinds.

Window Film is More Attractive Than Blinds:  Curtains and blinds can be a nice accent for home interior design.  However, they also can be hopelessly out of date from year to year. Additionally, while they block out harmful rays that cause floors to fade–they also block views and natural light.  Window film lets you enjoy natural light and the lovely San Antonio views you love from your home windows–all while greatly reducing sun-bleaching of hardwood floors.
Window Film has a Host of Other Benefits: Beyond just keeping your hardwood floors looking good, window film has more to offer your San Antonio home.  One additional benefit is better security and accident protection since glass stays adhered to window film even after repeated blows.  Another is energy-efficiency since window film is an additional layer of insulation on your windows. The amount of any of these additional benefits depends on what type of window film you choose.  However, these are benefits curtains and blinds simply cannot provide.
For more information and pricing on window film for your San Antonio home —contact the city's leader in window film– San Antonio Window Tint today!