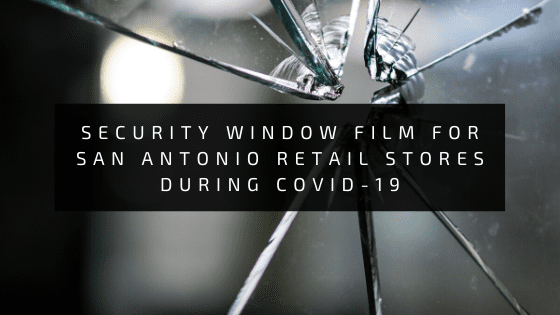 Due to the rapid spread of COVID-19, the past few weeks have been incredibly difficult here in the United States. With local and federally mandated stay at home orders, many of us have been forced to work from home, limit staffing, and even completely shut down. As a result, many business have been left vulnerable and you may be wondering if it is too late to have security film installed on your business. I'm here to tell you that it is not too late; security film is considered essential and installations are scheduled daily.
Why NOW is the Perfect Time to Have Security Film Installed on Your Business.
Every business owner knows that security is a necessity for successful operation. Security film can provide additional protection that standard security systems simply cannot provide, and the timing has never been better to have it installed. Here is why.
Empty Business Means Fast, Non-Invasive Installation: While security film installation is fairly straight forward, it can potentially be obstructive to the workflow and customers. Sometimes, entry ways need to be temporarily blocked off during installation, or workers need to relocate if their desks are directly in front of windows receiving security film. An empty, or partially staffed business, means installations will have a higher turn around rate, and be less intrusive to staff and customers.
An Empty Business is a Vulnerable Business: With many businesses being empty and less eyes out in public, smash and grabs have never been easier. If your business is shut down, on limited operation, contains easily accessed valuables, and has a large glass storefront, you may be at an increased risk of burglary.
Security Film Protects Where Your Security System Can't: Did you know the average police response time, from the time of break in to the time of police arriving, can take between 15 – 20 minutes depending on location? Although this information is valuable for the business owner, burglars are also aware of this information. In most smash and grab burglaries, the intruder will only need about 5 minutes. While security systems are great for mitigating prolonged damage and deterring crime, your first line of defense is your windows. Security film can greatly increase your first line of defense, and delay burglars enough to deter them from entering or allow enough time to pass for the police to arrive.
Additional Benefits: In addition to providing security for the most vulnerable sections of a business (windows), security film can also provide UV 99% UV protection for product preservation, heat rejection, privacy and various frosted looks.
It has never been a better time to protect you business, call your San Antonio Security Window Film Experts today!