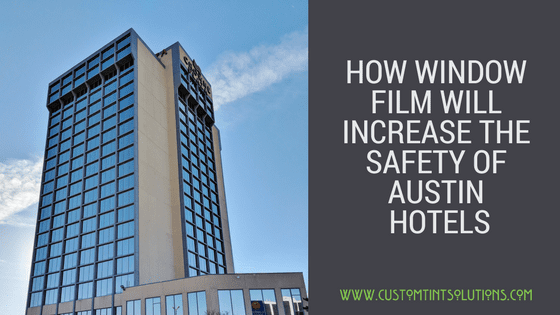 The Many Safety Features Of Window Film
Whether you own a hotel here in Austin or any other big city in the US, you, of course, know how competitive the hotel business can be.   As Austin grows bigger we are attracting more tourists too–which drives competition even more. In this high stakes landscape, hotel owners and managers must always look for new ways to compete, and since your lobby is one of the most integral and most frequented parts of your hotel, it makes sense to start there.  Lobbies are where the hospitality game is essentially won or lost and are your chance to make a good first impression on your guests. So, to stay competitive in the hotel scene here in Austin and to stand out from a sea of competitors, one of the most cost-effective lobby improvement is actually, security window film.   While you may think security window film is only for protection from theft or attacks, there are actually many additional ways it protects your guest and gives you the competitive edge. Read on to find out more.
The Best Protection For Your Austin Hotel Lobby That Money Can Buy
Protect Your Hotel Guests From Bullets And Bombs:  Security film is used in coordination with C-bond adhesives and specialty attachment frames it keeps bullets from penetrating glass.   While the glass may shatter, glass shards stay attached to the frame. Not only does it stop glass from exploding outward when hit by a bullet or bomb blast, it also stops/impedes the attacker as well.
Protect Your Hotel Guests From UV Exposure:  UV exposure and excessive glare through lobby windows is bad for your hotel furnishing and bad for the health of your guest.  Additionally, intense glare could easily give guests a bad experience and stop them from returning too. Security window film has the ability to block UV rays and make for a comfortable, safe, glare-free environment–one your guests are sure to notice.
Protect Your Hotel Guests From Accidents:  Accidents are commonplace in commercial buildings and owners must be prepared for them.   The hotel lobby is the most likely place for a glass-related accident to happen is in or around your lobby because of the breadth of traffic.  These accidents can not only be harmful but deadly if glass is not tempered or treated with safety film. Untreated windows that lack safety glass could open you up to litigation too.  However, having window film applied to your hotel lobby windows keeps the glass n place, even after being hit by a high-velocity object. In fact, safety window film acts much like tempered glass–for much lower of a price.
Protect Your Hotel From Natural Disasters:  One of the main causes of fatalities in natural disasters like earthquakes, floods or hurricanes is the exploding, broken glass.  Having safety glass applied to your hotel lobby's windows will assure that things like high winds, hail or flying debris don't spell disaster for your hotel.
For more information on security and safety glass for your hotel read the PDF case study below:
For more information on how safety and security glass can help you compete in the competitive world of Austin hospitality by keeping your guests safe, contact us at Custom Tint Solutions today!